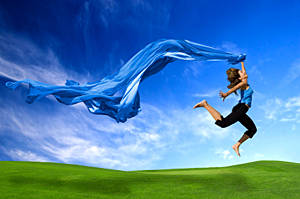 How many times have you spent hours looking for something that you need and couldn't find it?
Then, when you least expect, it appears right where it was supposed to be all along. Did you feel silly having wasted all the time looking, while it was right there under your nose?
If you're like me, this has happened to you many times throughout your life. Well, finding the life you love is really not much different.
As a child, I remember going to church and being told about that small voice within each of us that guides us, if we let it. Back then, it was given the name of 'conscience'.
In the early 70's, when I began meditating, it was called 'going within'. In order to go within, we had to learn first to let go. We were learning to connect with that spiritual force within each of us, and to let it come forth and fill our bodies with its light, power and guidance.
This light, this Divine Spark within each of us, is a beacon that guides us through our life. It is pure spirit, joy and love. It is at once all-knowing, all-understanding, all-giving, all-glowing, all-healing, and all-protecting.
Living in a material world, we are well aware of our material bodies, but we often forget that we have this other spiritual body within us. This spiritual body functions much like a 'genie' and is always on call. All we have to do is let go, and let it guide us.
The spiritual side of us knows better than the material side what is in our best interests, what will make us happy, and what is our correct choice of path in every given situation. But, in order to unite with this portion of our being, we have to first let go.
Affirmation: I am always protected. I am released from all the negatives that are holding me back.
Being a professional psychic counselor was never what my material self wanted for me. I was a conservative, who believed I had to have a professional, traditional career. I did for many years, and actually loved what I did. But, did it make me happy? Not really. It did provide for me, but it also stressed me out, took a toll on my physical health and body, and put me in a brain fog so great, it became hard to function. I was physically, emotionally, and mentally exhausted. Have you ever felt the same?
After a number of situations that took a toll on my physical health, I knew that something had to change. I'd been doing affirmations on and off since the early 70's and knew how powerful they were. So, I did a lot of praying for guidance and came up with a great one, and started using it multiple times a day. Then I asked for a sign to tell me what to do, as I was at a major crossroads. Then I let go and I waited.
The wait wasn't very long at all. Spirit started talking to me and telling me which way to go. They were baby steps at first. It was a path I had been on for years, but only part time. I had rejected for years what I had been consistently told I was to do, because it wasn't what I thought I should be doing.
"Affirmation: I am always guided. I make only correct choices and decisions followed by Divine right action."
It seemed a little too out there, too unconventional, not mainstream enough, and too off the wall. It didn't fit my image of how my life was supposed to be. How was anybody going to take me seriously if that is what I did for a living? But, now I was ready. I had tried it my way and had been left physically broken. This time I was desperate, I was ready to listen to that Divine Spark within. I was ready to let go.
Little by little, I got back on the path Spirit was telling me to go in. Each day, I continued my affirmations. Each day I received guidance and nudges pushing me along my path.
Then one day, to my surprise, a dear client called me and lectured me. She and another client had gotten together and, according to her, had decided that if I spent the same amount of time on the spiritual work that I did on the conservative job, and that I wouldn't need the job anymore.
This special lady functioned as an Angel that day. She was dying of cancer. She spent the last months of her life doing what she could to make sure those she cared about were on their path and doing what they were supposed to be doing. I was one of many. I am so grateful today for that phone call and the words she spoke that day. It marked a major turning point in my life's journey.
I really looked at what I had been doing, versus what I had been told to do for years. I realized that she was absolutely right and that this was the sign I had been asking for. This dear client had never called me on my cell, nor ever called me at the office, so that in itself was a shock and completely out of character. And, the lecture was out of character as well. I knew that it could have only come as a result of Divine Guidance and as a result of the affirmations I had been doing.
A few days later I quit my unbearably stressful job. With nothing to fall back on except faith, I took a huge risk to follow the voice of inner spirit within. I finally let go completely.
Affirmation: Only Good exists in my life now! I am grateful for all the blessings in my life.
I was soon after hired by a company where I could do my spiritual work at home on my own schedule. I could work when I wanted and as little or as much as I wanted. I could set my own hours according to my health limitations. I could rest when I needed to.
For the first time in years, I could visit with friends, family, take a trip, have company, take a long lunch, walk on the beach, read a book, go to a matinee, or anything else I wanted to do, without having to get permission from a boss who thought they owned my life. I am virtually stress-free. My bills are paid every month.
How did this happen? It started with one big step! I allowed the Spirit within me to start guiding my direction instead of thinking I could do it all by myself. Each day I do my affirmations, and if I get nervous about not being in the driver's seat, I do more affirmations. I allowed that big Genie inside of me to guide me. I let go. You can unleash your Magic Genie, too!