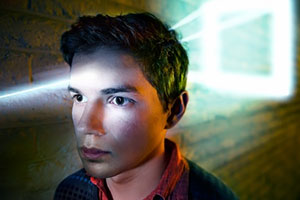 What is the best way to start developing their own psychic abilities? Some people seem to be born with a high degree of psychic gifts. Some gain them through a near-death experience. Others learn to develop them. There are many ways to do this.
The best way to start developing your own psychic abilities is through meditation. If you have trouble with this on your own, join a meditation group, or start one yourself with interested friends. Take turns each week with who will lead the group and prepare the lesson. Then pick out various psychic skills to practice each week.
I think everyone is equally psychic. But through the practice of meditation, you learn to make your thoughts quiet and become more aware of your innate psychic abilities ~ Dr. Frederick Lenz
The next step is to realize that psychic abilities are gifts best used to help others. If you are seeking primarily to get information for yourself, you probably won't get very far. So, at the end of each week's class, have the group practice on seeing what they can pick up for each of their classmates, and then share with the group. You may find you get a message for each person, or perhaps only for one. But each person will get one or more messages. The more you practice doing for others, the more will then be given to you when the need arises.
Then you need to practice, practice, and practice – remembering to place the intent on service to others. If you do this, you will find your gifts growing rapidly. Do affirmations to be released from the blocks that are holding you back from your highest potential. Also affirm that you are always guided and protected.
The final step is to have a hypnosis or Emotional Freedom Technique (EFT) therapy session, and ask to be released from any blocks that may be interfering with your higher guidance and intuition. Ask that you become a clear channel for the source energy and wisdom with the intent of helping and being of service to others.
When an entity has prepared itself through constant forward movement towards service, the necessary circumstances for change will come about so that he may see the next step, the next opportunity ~ Edgar Cayce
If obtaining one of these sessions is not possible, then simply speak to your own higher self and spiritual helpers and request that these blocks, which have been holding you back, be released so that increased abilities have room to come in.
To summarize, the more you do for others, the more you will receive for yourself. You will then find that Spirit is readily available to help you as needed, or send someone else to you with your messages. Psychic abilities are to be used to help and serve others. If they are not used in this way, they often disappear so that they will not be misused. If you ignore the insight you are given, it can also close the door on future intuitive guidance.